Infobox
Price
€ 90
Requirements
Drawing "Generator"
Drawing pieces needed
12 unique blueprints
Staff required
80 employees
XP gained for constructing
1000 XP
Size
5x5 tiles
Must be placed on
Land
Road required
No
Max number of facilities
10
Available from
April 19, 2012
December 15, 2012
February 22, 2013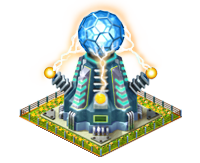 |   | Construction / upgrading costs | Construction / upgrading time | Energy Units produced | Energy Units per cell |
| --- | --- | --- | --- | --- |
| Initially | € 90 | 48:00:00 | 1,800 | 72 |
| Level 1 | $ 24,750 | 24:00:00 | 1,950 | 78 |
| Level 2 | $ 42,075 | 31:12:00 | 2,100 | 84 |
| Level 3 | $ 71,528 | 40:33:36 | 2,250 | 90 |
| Level 4 | $ 121,597 | 52:43:40 | 2,400 | 96 |
| Level 5 | $ 206,714 | 68:42:46 | 2,550 | 102 |
| Level 6 | $ 351,414 | 79:06:36 | 2,700 | 108 |
| Level 7 | $ 597,404 | 115:50:36 | 2,850 | 114 |
Get as a gift a part of the drawing of the Top Secret energy source - Tesla Generator for the purchases on the bank*. Don't miss a chance to get 1500 units of energy. To the bank!
`* "bank" refers to the purchase of in-game currency by giving real $US to the Russian Developers.

The bank window tells us we get blueprint pieces as follows:
Piece #1 from purchasing 250k + 25k for $6.99
Piece #2 from purchasing 45€ + 10€ for $6.99
Pieces #3 & 4 from purchasing 720k + 150k for $19.99
Pieces #5 & 6 from purchasing 130€ + 40€ for $19.99
Pieces #7 & 8 & 9 from purchasing 1800k + 450k for $49.99
Pieces #10 &11 & 12 from purchasing 325€ + 125€ for $49.99

Once a single drawing piece has been obtained, additional drawing pieces can be purchased at a cost 50€ per missing piece.  The missing pieces must all be purchased at one time, not available individually.
Ad blocker interference detected!
Wikia is a free-to-use site that makes money from advertising. We have a modified experience for viewers using ad blockers

Wikia is not accessible if you've made further modifications. Remove the custom ad blocker rule(s) and the page will load as expected.