Overview
What this page covers is the option to expand your territory. Since you only have a finite amount of room in the original territory, you must expand your territory. This page lists the amount it costs to expand the territory.

Notes:
At any time you can purchase the next region with €'s regardless of what XP level you are at or how many friends you have.
For the Android version you do not need any friends.
For the iOS versions you only need friends to bring the expansion cost down.
Purchasing additional regions counts towards the Territory Awards

As an extra incentive to expand your regions, each time you unlock a new region you have access to a
Pirate Chest
containing mostly
scrolls
.
Maps
Region and terrain map for the first part of the island: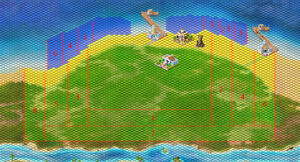 Costs to expand
Ad blocker interference detected!
Wikia is a free-to-use site that makes money from advertising. We have a modified experience for viewers using ad blockers

Wikia is not accessible if you've made further modifications. Remove the custom ad blocker rule(s) and the page will load as expected.