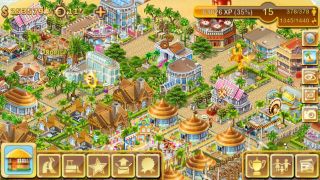 Bonjour a tous
Ici, j'aimerai bien que l'on puisse echanger sur le jeu mais en français !! j'ai lancé cette page car je suis toujours en train d'eplucher les discussions sur le sujet mais sans comprendre la totalite (barriere de la langue oblige),donc j'espere que vous trouverez ceci pratique et que nous serons nombreux a donner ici ,combines et impressions sur le jeu et ce , pour que la communaute francaise addicte comme moi a "paradise island " puisse enfin echanger sur le jeu et savoir de quoi on parle!! "
Merci a vous tous
Ad blocker interference detected!
Wikia is a free-to-use site that makes money from advertising. We have a modified experience for viewers using ad blockers

Wikia is not accessible if you've made further modifications. Remove the custom ad blocker rule(s) and the page will load as expected.